The story of CINNAMON
One day, Last Hope received a phone call from a woman desperate to help a badly injured dog found tied to a tree. The young female pit bull was in bad shape.
Cinnamon suffered from severe wounds to her face. A deep gash across her muzzle exposed her gums, jawbone, and teeth. She appeared to have been the victim of a horrendous dog fight. The Good Samaritan indicated that Cinnamon may have been abandoned like that for over a week.
Last Hope promptly got Cinnamon into a vet. Despite her appalling past and gaping facial tears, Cinnamon exhibited remarkable sweetness and friendliness to everyone she met. Southview Animal Hospital miraculously managed to repair her face.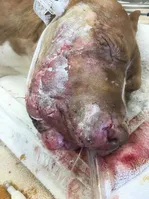 Now, Cinnamon looks amazing! She is being rehabilitated in a caring foster home and patiently awaits her forever home. She is an admirable dog with lots of love to give, and deserves a wonderful home.
---
OATMEAL
Oatmeal was brought into Animal Emergency & Referral Center of Minnesota by a Good Samaritan who found her in a pile of trash inside a recycling bin. She had an old, severely infected leg wound that required amputation. To top it off, she was almost completely blind! One call to Last Hope and Oatmeal was able to have her surgery and was on the road to recovery.
---
SQUIRREL

A Good Samaritan brought Squirrel into our office in the middle of February. She most likely had been hit by a car because she had suffered great trauma. She had pelvic fractures a fractured jaw. All of her canine teeth were broken near the gum-line. She had to have surgery on her hip and mouth.
After 4 months in foster care she was ready for her new home.
Her name is now Gracie and she lives with her 2 brothers who were also adopted from Last Hope!
She is always helping her Dad around the house with odd jobs, and loves to snuggle with her mom and sleep every night tucked under the covers of their bed.
---
KODY - A Super Success Story!

Kody, a four year old chocolate AKC Labrador Retriever was relinquished to us from his owners early in 2010. Kody had severe chronic ear infections and a palm sized blood blister or hematoma that encompassed his entire right ear flap. His previous owners could not financially afford to deal with Kody's complex ongoing medical costs. It took two surgeries and four months of constant medical treatment to clear up Kody's ear problems.
We discovered that Kody has severe food allergies, and requires special hypoallergenic dog food that is very expensive. The food allergies were at the heart of Kody's chronic ear infections. Additionally, after being placed in a foster home, we discovered that Kody also had severe separation anxiety, and could not be crated, kenneled, or left alone. His anxiety was so severe that he could not go to adoption day events.
We were very concerned about the prospects of finding the right home for Kody. He already had gone through so much. He is a very gentle and good dog, but after nine months in rescue we needed to find him a home.
We received a phone call from a kind woman whose mother is in a local assisted living community. The community had a resident dog that recently passed away from old age, and they were looking for a replacement. They wanted a large dog that is extremely gentle and good with all ages of people. The woman had seen Kody's profile and put us in contact with the director of the assisted living center.
Kody interviewed for the position of resident dog and was instantly loved by the staff and residents. His need for special dog food is never going to be a problem for the center. But better yet, Kody will never, ever have to be alone. Kody will be able to visit all of the residents in the whole facility at will, and also have a 24 hour staff to be with him. The community is beautiful and next to a large park for walks. Kody even has his own couch in the sun room near the director's desk!
Kody's life and future is guaranteed to be filled with love and attention, and all of his diet and medical needs will be met. He is a very good dog that now has the perfect home. This is what keeps us going and doing what we do.
Doing this kind of work takes a lot of funds for veterinary bills. More people are relinquishing or abandoning their animals, requiring that we have continued funding to help them. Please donate today so that we can help innocent animals become healthy pets that find their forever homes. Thank you.
---
An Injured Mom and Her Babies
This shepherd mix mom was found with three puppies. She had sustained several injuries. We took them in, gave them medical help, and found all of them forever homes. This is the work that our supporters, corporate sponsors including our vets, and fosters make possible. Please help us continue our mission by donating or fostering!
---
TEX the unwanted runt
Tex came to us as an unwanted 8 week old puppy. He is a Scottish Deerhound/Greyhound mix. His owner said that he did not have the "critter drive" necessary. Tex contracted Parvo, and had only a 50% chance of survival. He was a very sick little boy! He is now 8 months old over 72 lbs. and living his best life in his forever home. Thank you supporters for your donations. Your donations make stories like these possible.
---
NELLIE
Nellie was given up because her previous owners could no longer care for her. Nellie was 6 years old and had several mammary tumors. We were able to get her the medical care that she needed and had the tumors removed. She found her a new loving home. Help us continue our work with pets like Nellie by donating, fostering, or volunteering!
---
PayPal is available
It's fast, easy and secure!
Use your PayPal Account or major credit card